It's come to this: Old women hector and belittle young women to vote for Hillary or else
From my latest blog post for the Independent Women's Forum: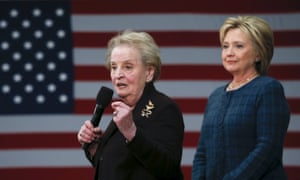 Albright: Vote for this woman or burn for all eternity
So–two old Democratic women sprang into action over the weekend to get those young Democratic women into line–kind of like the "Aunts" who regulate the social mores of younger women in Margaret Atwood's The Handmaid's Tale.

Gloria Steinem, age 81, accused the twentysomethings of being boy-crazy (the pro-Sanders "Bernie Bro" is a much-criticized-among-progressives male phenotype):

"'Women get more radical as we get older,' she said, explaining that women lose power as they age while men gain it, and feeling oppressed radicalizes you…. 'When you're young, you're thinking, "Where are the boys? The boys are with Bernie?"'"

Madeleine Albright, age 78, went a step further, threatening the youthful female feel-the-Berners with eternal damnation:

"'Young women have to support Hillary Clinton. The story is not over!' she said. 'They're going to want to push us back. Appointments to the supreme court make all the difference.
"'It's not done and you have to help. Hillary Clinton will always be there for you. And just remember, there's a special place in hell for women who don't help each other.'"

Uh-oh! Neither admonition went over particularly well. Steinem promptly apologized for her "where the boys are" crack. Hillary went on "Meet the Press" to defend Albright's theological admonition as a "light-hearted but very pointed remark."

Light-hearted Albright may have been, but the CNN/WMUR poll indicates that all the hectoring to date hasn't pushed into Hillary's camp the huge numbers of women voters she needs to overcome the Clinton Gender Gap (only 32 percent of men supported her in Iowa).

And the

CNN/MUR poll

shows that older women who aren't named "Steinem" or "Albright" are feeling basically like the millennials about Hillary.
Posted by Charlotte Allen