Once a feminist icon, now a "sexualized image": UN drops Wonder Woman campaign
From my latest blog post for the Independent Women's Forum: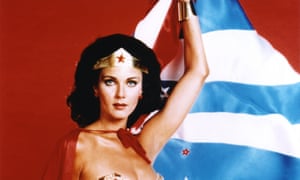 Merciful Minerva! Not "culturally…sensitive" enough
Until just yesterday the busty, black-haired DC Comics superheroine clad in her signature red-white-and-blue strapless bodysuit and high-heeled knee-boots was a feminist icon. And what feminist couldn't love the Amazonian princess who swatted away bullets just by flicking her bracelets? She was perfect: a feminist-separatist (no men on the island of Amazons she hailed from) but also grrrrl-ish-ly glamorous enough to be played on TV by beauty queen Lynda Carter.

Ms. Magazine put Wonder Woman on the cover of its inaugural issue in 1972 to tout such feminist-centric articles as "Money for Housework" and "Body Hair: The Last Frontier." Then Ms. brought her back again for its 40th-anniversary cover in 2012, just in time to to enlist her against the "war on women" that the GOP was supposedly waging. "Vote As If Your Life Depended on It," the 2012 cover said.

That was just yesterday. But now it's today. So, when the U.N. in October decided to make Wonder Woman an honorary ambassador "for the empowerment of girls and women, the reaction was…well, not exactly what you'd expect for a supposed feminist icon. It seems that in just four years, strapless bodysuits and high heels have gone from girrrl-power adornment to symbols of oppression of women. Around 45,000 feminists signed a petition asking the U.N. to fire Wonder Woman and send her back to the mythical isle of Themyscira where she came from:
"Wonder Woman was created 75 years ago. Although the original creators may have intended Wonder Woman to represent a strong and independent "warrior" woman with a feminist message, the reality is that the character's current iteration is that of a large breasted, white woman of impossible proportions, scantily clad in a shimmery, thigh-baring body suit with an American flag motif and knee high boots –the epitome of a 'pin-up' girl. This is the character that the United Nations has decided to represent a globally important issue – that of gender equality and empowerment of women and girls. It appears that this character will be promoted as the face of sustainable development goal 5 for the United Nations at large.
"At a time when issues such as gender parity in senior roles and the prevention of sexual exploitation and abuse of women and girls is at the top of the United Nation's agenda, including the 'He for She' campaign, this appointment is more than surprising. It is alarming that the United Nations would consider using a character with an overtly sexualized image at a time when the headline news in United States and the world is the objectification of women and girls. The image that Wonder Woman projects (life-size cut outs of which have already appeared at UNHQ) is not culturally encompassing or sensitive –attributes the United Nations expects all its staff members to embody in the core value of respect for diversity."
Read the whole thing here.
Posted by Charlotte Allen