Stanford University, founded in 1885, doesn't have campus Confederate statues to dump, so it's choosing the next-best thing: memorials to California mission founder Junipero Serra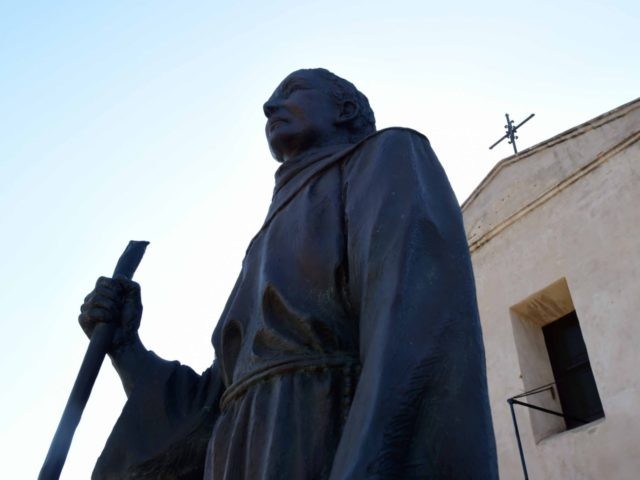 Stanford University, my alma mater, was founded 20 years after the Civil War ended, so, unlike Yale or Duke, it can't run up virtue-signaling Pokemon points by dumping statues of Confederate generals and otherwise altering campus infrastructure to remove the names of long-dead politicians associated with slavery.
But this is the #MeToo era, so Stanford found the next best thing–or rather, person–to villify in an orgy of building and street-renaming: Junipero Serra, the Spanish-born 18th-century Franciscan friar who founded nine of the California missions. Serra might be a saint of the Catholic Church (canonized in 2015 by Francis, everyone's favorite liberal pope), but he is completely unacceptable these days because…"colonialism," as an Aug. 18 report by a Stanford committee put it.
So Stanford is currently in the process of renaming two campus buildings (one a student dormitory) that currently bear the unfortunate priest's name, as well as its main pedestrian street in front of its historic Quad that also happens to be the university's official address: Serra Mall. The reason: the "hurt" and "pain" (according to the report) that various campus and off-campus activists say they feel whenever they see something that says "Serra." (You can read my Los Angeles Times op-ed about the controversy here.)
Poor Father Junipero. He was once revered in history books for protecting California's Indians from the Spanish military authorities then governing California who often maltreated and even killed Native Americans on a regular basis. He acquired the name "Father of California," and a statue of him stands in the U.S. Capitol. Lately, though, it's become fashionable to regard the 21 picturesque California missions founded by Serra and his successors as hellholes of slave labor--filth-ridden "concentration camps," as one critic put it. Worst of all, Serra and his fellow friars converted the Indians to Christianity–and we can't have that. Generations of California schoolchildren used to build little models of the missions in class, but now they get taught that the missions "contributed to the destruction of the cultural, economic, and religious practices of indigenous communities," as the Stanford report put it. In September 2017 activists beheaded a statue of Serra at the Mission Santa Barbara, where a community of Franciscan friars still lives.
Unfortunately for Stanford, its founders, California railroad tycoon Leland Stanford and his wife, Jane, lived in that dark age of political incorrectness in which Serra and the missions were actually regarded as positive forces in shaping California history. Jane Stanford in particular worshiped Serra. With the help of architect Frederick Law Olmstead the Stanfords designed the Quad as a larger-scale replica of a California mission (with some Romanesque touches), complete with tiled roofs, cloistered walkways, a landscaped interior patio, and the campus's interdenominational Memorial Church as its central feature. Other red-tiled mission-style buildings dot the 8,000-acre campus.
And of course there were those Serra building and street names that now must be obliterated on grounds of Native American distress. Indeed, one dorm on the Stanford campus, Junipero House, isn't actually named after Junipero Serra but, rather, the Spanish name for the juniper tree–but apparently a lot of Stanford students don't know that and get freaked out anyway. The Aug. 18 report recommended that that name, too, be changed if administrators couldn't think of some way to publicize an "explanation." (I can see the sign now: "Relax–this building is not named after Junipero Serra.")
Stanford's damnatio memoriae for Junipero Serra is sweeping but not quite complete. Although the Stanford Mall will be renamed "Jane Stanford Way" (causing the dear lady to take another spin in her grave, I'm sure), a campus roadway called "Serra Street" will get to keep its name, because after all, Serra was a figure associated with "a significant significant period of California's history," as Stanford says. There will, of course, be the expected brainwashing–er, "educational"–campaign "to develop signage and other educational support to more fully explore the multidimensional legacy of Serra and the mission system in California."
Keeping the Serra Street name on that street will also obviate the need for Stanford to engage in a wholesale street-renaming throughout the campus–since other campus boulevards bear the names of his two close disciples, Fermín Lasuén and Francisco Palóu, as well as that of José de Gálvez, the inspector general for New Spain who facilitated Serra's missionary work in Alta California.
We don't want Stanford students to get too lost.
Posted by Charlotte Allen