Annals of Catholic education: Notre Dame student government picks gal who thinks "men are gross" to direct its Department of Gender Relations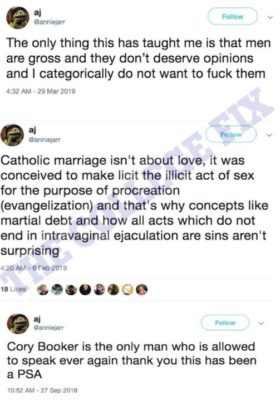 The
The College Fix reports on a rather odd choice by students at a Catholic university for head of a unit supposedly devoted to helping the sexes get along better:
A University of Notre Dame student who has voiced negative statements about men and is openly opposed to Catholic sexual ethics was recently confirmed as director of the student government's Department of Gender Relations.

The department "works to foster a healthy environment of communication and dialogue between individuals of different genders on campus," according to its website.

The student who recently took the helm is Anne Jarrett. During the student senate confirmation hearing April 15, sophomore senator DC Morris raised concerns over Jarrett's ability to work effectively with men as gender relations director given some of her past comments on social media.

Jarrett, a junior, tweeted March 29: "The only thing this has taught me is that men are gross and they don't deserve opinions and I categorically do not want to f*** them."
Jarrett, age 20 and a philosophy and gender-studies major at Notre Dame (bet you didn't know Notre Dame even had a gender-studies department), had posted a Twitter photo of herself in Nike bike shorts as a protest against the "leggings mom" who had written a letter to the student newspaper pointing out that–surprise, surprise–gals who wear tight leggings get a lot of lewd attention from men. Jarrett's photo of herself doing a leg lift was perhaps not as flattering as it could have been (you can view it here), and some male commenters had apparently voiced some blunt opinions about her looks.
The College Fix continues:
She said in other tweets regarding men: "I have a lot of sex with men for someone who condemns so vehemently giving men opportunities to disappoint me," and "Cory Booker is the only man who is allowed to speak ever again thank you this has been a PSA."

In yet another example of statements that have caused some to worry about her ability to be the leader of positive relationships between genders at Notre Dame, she said in an Instagram post last year: "You can trust [women about their bodies]. If we wanted your ignorant, irrelevant opinions, we'd ask."
Strangely enough, though, for someone who has "a lot of sex with men," Jarrett wrote an article for the HuffPost in October 2017 in which she described herself as having come out a "lesbian" (perhaps she has since changed her mind). The gist of the article was that Notre-Dame's single-sex dorms somehow discriminate against transgenders:
The University currently only has undergraduate housing in which only students of one gender—male or female—are allowed to live in a dormitory together. Also, only people who were assigned that gender at birth are allowed to be in the rooms from midnight to 9 am on weeknights and 2 am to 9 am on the weekends, to, as the University says, help to create a dorm community. Students who break these parietals are subject to punishment. However, as members of other dorms who are of the same gender are allowed and sexual intercourse is banned by the University's rules governing students, many students believe these rules are in place to limit heterosexual sexual activity on campus. This seems to enforce heteronormativity and ignore that LGBTQ+ students exist here. This also makes being a transgender student on campus impossible, as the University requires that you live in a community of those who all were assigned the same gender at birth, which can be an institutional challenge to the identities of transgender students.
Other tweets from Jarrett reported in the College Fix indicate that she feels just about as negatively about the Catholic Church as she feels about men:
Jarrett had said in a now deleted tweet: "I see the [Catholic] faith as inherently against female empowerment and sexual freedom."

She also tweeted, "Catholic marriage isn't about love, it was conceived to make licit the illicit act of sex for the purpose of procreation (evangelization)."
And she has quite the agenda for her new job heading the Department of Gender Relations:
Addressing her department members as "folx," (a gender-neutral term which includes transgender and non-binary people), she laid out some of the initiatives she plans to pursue in the next school year, including: "sexual assault prevention," "trans* student rights," "PRIDE week," "pronoun emphasis," "discussions about sex/gender/sexuality," "menstrual product availability," and "PARIETALS 'reform' (REMOVAL)."
More info on Jarrett:
Jarrett is one of the founding members of Irish 4 Reproductive Health (I4RH), a group which describes themselves as "sex-positive feminists" who work to promote "reproductive justice" at Notre Dame. The group is in the process of suing Notre Dame for not providing abortifacients in their healthcare policy. I4RH delivers condoms, internal condoms, and lubricant to any students on the Notre Dame campus who request them via their Snapchat.
Still….
Student body President Elizabeth Boyle, who was director of the Department of Gender Relations prior to her election as president, defended her nomination of Jarrett at her senate confirmation, saying: "Bringing diversity and diversity of thought is exceptionally important."
All I can say is: I guess Catholic education isn't exactly what it used to be.
Posted by Charlotte Allen