Out of work and obviously bored to tears, ex-Planned Parenthood CEO Cecile Richards adds to the pile of progressive women's organizations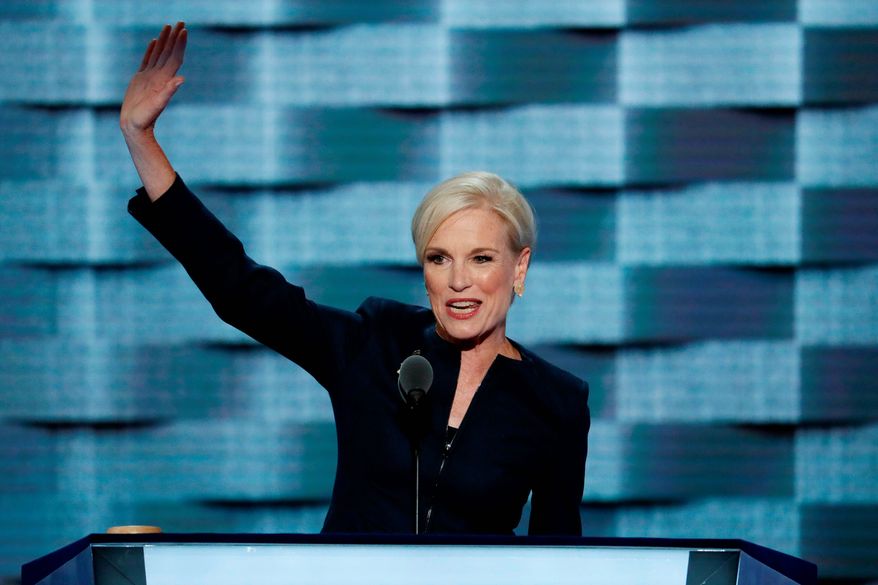 Photo: Associated Press
What do you do when you quit your $700,000-a-year job as CEO of Planned Parenthood?
Why, you start an organization designed to "harness the political power of women"–adding to the stack of organizations already in existence designed to harness the political power of women.
Poor Cecile Richards must have been bored out of her skull sitting at home twiddling her thumbs after stepping down from her nicely compensated top-dog position at the $1.3 billion "reproductive health" behemoth.
Richards is cofounding the group, called Supermajority, with Alicia Garza, a cofounder of Black Lives Matter, and Ai-jen Poo, the director of the National Domestic Workers Alliance….

The plan for Supermajority is to partner their organizations, among others, to teach 2 million women how to be political activists. The group will emphasize the intersection of issues affecting different racial and socioeconomic groups in the US, Richards and Poo told BuzzFeed News….In collaboration with its separate education division, Supermajority will train women on how to participate in politics and activism in their communities, both online and on the ground.

One of the main goals of the group is to create a "women's New Deal for gender equality," the cofounders said, an agenda that their members can push candidates and legislators to adopt.
But don't you Republican ladies out there get any ideas about the "women's issues" to be pushed by Supermajority including, say, easing regulations so that more women can operate small businesses out of their homes.
Noo, Supermajority isn't interested in you. Its "women's New Deal" will be the same old liberal-Democratic same old:
In a press release provided to BuzzFeed News in advance of the launch, Supermajority listed some of the issues they believe their base is concerned about including unequal pay, "staggering child care costs, rising maternal mortality, no family leave, and a government that continues to fail women."….

Among the other organizations that will be heavily involved is Poo's National Domestic Workers Alliance, a massive grassroots organizing effort that advocates for improved working conditions for domestic workers, including workers and immigrants rights. The alliance works closely with Time's Up, the organization of women in Hollywood formed in the wake of the #MeToo movement to fight against gender inequality in the workplace. Poo told BuzzFeed News that she has talked to them about Supermajority and is hopeful they will get involved.

Garza…will bring the power, influence, and visibility of her organizations Black Lives Matter Global Network — the criminal justice reform advocacy organization born out of the massive protests against police brutality — and Black Futures Lab, a political advocacy organization focused on mobilizing black voters.
And don't forget the Hillary contingent:
Supermajority will also work closely with the online group Pantsuit Nation, a Facebook group and online advocacy community created to support Hillary Clinton's 2016 presidential bid….

Pantsuit Nation still claims a powerful voice online, however, and has around 3.5 million members. It will act as a megaphone for Supermajority, spreading news and information about the group's actions and training to its followers.
Plus, of course, Richards's own pet interest, abortion promotion:
[Richards]e said she reached out directly to [new Planned Parenthood president Leana] Wen, asking if Planned Parenthood wanted to be involved in Supermajority. Wen said yes.

"If anything, I feel like [Planned Parenthood is] really interested in how we can continue to grow this movement, and I'm really proud of the work they're doing," Richards said.
Richards became famous during her 12-year tenure heading Planned Parenthood for funneling tens of millions of dollars to get Democrats elected to public office–and also for turning abortion into the organization's top priority at the expense of nearly everything else. According to the Washington Times in 2018:
The number of abortions performed at Planned Parenthood has increased by nearly 11 percent since 2006, Ms. Richards' first year on the job, despite a more than 23 percent decline in patient visits….

The number of cancer screenings performed at Planned Parenthood declined every year that Ms. Richards was president. The organization performed 200 percent more cancer screenings in 2006 than in 2017, the most recent year for which data are available.

Planned Parenthood also showed little interest in prenatal services during Ms. Richards' tenure. Abortions outnumbered prenatal services by a ratio of more than 44-to-1 last year.

The number of Planned Parenthood facilities peaked in 2008 at 880. Today, there are fewer than 600 clinics.
The only fly in the Supermajority ointment: The field for progressive women's political organizations is already kind of crowded. The Wikipedia entry for "women's political advocacy groups in the United States" lists more than 50 of them (Emily's List, Fund for a Feminist Majority, and so forth), nearly all of them ultra-liberal in outlook. Supermajority looks right now like a small fish in an awfully big pond.
And if Supermajority folds, Garza and Poo, the other two members of its founding troika, have their day jobs to fall back on, heading their own advocacy organizations.
Cecile Richards, by contrast, will just have to…go back to looking for another $700,000-a-year gig.
Posted by Charlotte Allen