Time mag names Christine Blasey Ford one of 2019's most influential people–although she's hardly been seen since the Kavanaugh hearing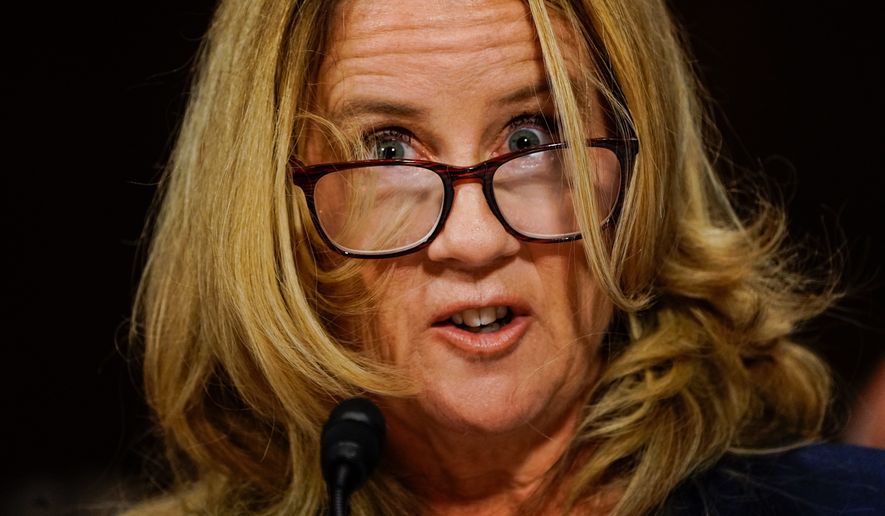 Photo: Associated Press/File
You might have wondered what Christine Blasey Ford has been up to since she hurled allegations of teen-age sexual assault at now-Supreme Court Justice Brett Kavanaugh during his confirmation hearing in September 2018.
Well, now you know. She's been busy being "influential." So influential that Time magazine named her one of its 100 Most Influential People of 2019.
Time also recruited California Democratic Sen. (and big-time Democratic presidential candidate) Kamala Harris (since Ford lives in California) to write an encomium for her.
But in her three-paragraph tribute for Time, Harris seemed a little uncertain as to what to say exactly, since: 1) No one, including the FBI, which interviewed all the witnesses Ford named, was able to corroborate her claim that Kavanaugh forced himself on her at a high-school party sometime during the 1980s (despite the best efforts of the mainstream media to argue otherwise); and 2) Ford disappeared into parts unknown the day after the Sept. 27 hearing before the Senate Judiciary Committee. She never returned to her job as psychology professor at Palo Alto University, for example.
So Harris's Time accolade to Ford is…a bit vague:
Her story, spoken while holding back tears, shook Washington and the country. Her courage, in the face of those who wished to silence her, galvanized Americans. And her unfathomable sacrifice, out of a sense of civic duty, shined a spotlight on the way we treat survivors of sexual violence.

Christine Blasey Ford's ambition wasn't to become a household name or make it onto this list. She had a good life and a successful career—and risked everything to send a warning in a moment of grave consequence.

At her core, she is a teacher. And through her courage, she forced the country to reckon with an issue that has too often been ignored and kept in the dark.
Ah, yes, at "her core, she is a teacher." Even though she hasn't been teaching much of anything recently.
Instead, Ford seems to have been moving around a lot, among the various houses that she and her wealthy husband, Russell Ford, own. Here's what NPR reported in November 2018:
"Dr. Ford's current focus is solely on recovering from the experience and returning to her job responsibilities — not on writing a book," her lawyers said.
Adding to the mystery was this, according to NPR:
During the course of her Senate testimony, two GoFundMe campaigns launched on her behalf raised more than $800,000.

Heidi Feldman, a law professor at Georgetown University, set up one of the two GoFundMe pages for Ford, ultimately raising more than $200,000. Feldman told NPR she'd had no contact with Ford about the costs for her security detail.

"My understanding from GoFundMe is that [she] has access to the money my campaign raised (I do not know if she has withdrawn it)," Feldman said in an email. "I have no information about whether or how she has used or plans to use it."

A Slate article and the investigations arm of RealClearPolitics have both recently questioned what might happen to the money raised for Ford's benefit.

Ford and her husband own real estate worth millions of dollars, RealClearInvestigations writer Paul Sperry pointed out, adding that they had recently begun the process of an expensive renovation of her California beach house.

"It does make me a little uncomfortable to watch more than 13,000 people give money to an already-wealthy woman for unspecified expenses related to a sexual assault accusation when so many other survivors are trying to get by with far greater need and far less social, institutional, and financial support," wrote Slate's Christina Cauterucci.
Still, so influential has Ford been that  some professors and students at her alma mater, the University of North Carolina-Chapel Hill, nominated her her for a Distinguished Alumna award for (again!) that "courage" of hers. No word on whether that award actually materialized.
Plus, Sports Illustrated selected Ford to present its Inspiration of the Year award to lawyer and former gymnast Rachael Denhollander, the first woman to speak out in public about alleged sexual misconduct by former USA Gymnastics doctor Larry Nassar.
Ford made her presentation not in person but by video, apparently from one of her houses.
Yes, you can say that Ford has been reclusive of late, but you can't say she hasn't been influential. Ask Time.
Posted by Charlotte Allen