Beats selling Tupperware: Buy some crystals and candles, get onto Instagram, and make a tidy living from your fellow females as a "witch"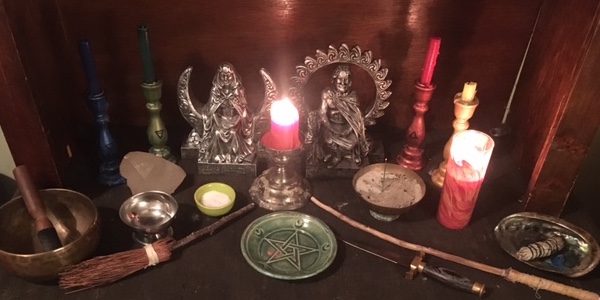 Photo: Patheos
You're a female, and you don't know what the hell you're gonna do to make a living with that MFA from art school that was so much fun and so edgy while you were at it but set you back almost $102,000 in tuition alone?
Answer: Buy yourself some crystals and candles, learn some woo-hoo-hoo about "healings" and "empowerment," find yourself some clients–female clients, of course, because who else?–and go into business as a witch.
Then get the the Los Angeles Times science reporter to write you up–because witchcraft is a science, isn't it?
The Oracle, who also goes by Amanda Yates Garcia, is a former arts educator with a master of fine arts in writing, film and critical theory from California Institute of the Arts. For the past eight years she has made her living as a professional witch, performing "energetic healings," "intuitive empowerment sessions" and the occasional exorcism, while also teaching workshops on the art of magic online and at her home, independent stores, and sites like the J. Paul Getty Museum.
But believe me, you can't be lazy, girl! Witching isn't just the occasional exorcism between lattes with the girls at Menotti's:
The Oracle understands the value of marketing, so she also devotes several hours each week to outreach: writing newsletters, updating her website and sharing tips on social media on topics such as how to break a curse using the "disruptive energy of a lunar eclipse."
"If you think being a witch is just sitting around doing spells all the time, you think wrong," she says. "Half my business is being on Instagram."
The beauty, though, is that you don't have to worry about pesky state regulators::
There's no official list of job duties for witches, no state licensing board that notes educational or training requirements (which means clients proceed at their own risk). Services run the gamut, from herbal workshops to love spells to communing with spirit guides; some witches charge up to $200 an hour for their time.
$200 an hour for summoning up a spirit guide? That sounds nice. Furthermore, you're not only doing well–you're doing good:
Today's working witches, whose prominence is growing thanks to social media, primarily see themselves as healers. They help clients who are struggling to cope with life's hurdles — heartache, aging, misogyny, work stress — and who find that more culturally accepted remedies, such as therapy and meditation, aren't enough.
Heartache, misogyny….we know which of the sexes suffers from that:
Sara Benincasa, a comedian and writer who started seeing the Oracle last August, says the sessions feel like "part therapy, part religious ritual."
"I would say she's doing spiritual coaching," Benincasa says. "You can go to see her the way you might see a rabbi or pastor."
And it's easy as pie to find the equipment you need to set yourself up in the witch business:
[T]here are more places than ever to buy crystals, candles, incense and other tools of the witch trade — both online and in stores. Here in Southern California, the magical supply shop House of Intuition opened in Echo Park in 2010. In the last few years it has expanded into a full-fledged chain with storefronts in Pasadena, Long Beach, Santa Monica, Highland Park and West Hollywood.
Instagram has also helped spread the word. Search the hashtag #witchesofinstagram and you'll find 2.6 million posts including spiritual affirmations, Gothic selfies, and a substantial sprinkling of cats.
"Instagram has been a huge way to make magic and mysticism accessible for everyone," says Bri Luna, who goes by the name "Hoodwitch" and has 420,000 followers on the social media site.
You do have to watch out about taking it too far, though:
In January, the Los Angeles County district attorney's office released a warning about a blessing scam in which victims, many of them seniors in immigrant communities, were told that a terrible misfortune would befall their family unless a blessing ceremony was performed on their valuables.

One senior put more than $70,000 in cash and jewelry in a bag for a blessing. She was told not to open the bag for two days. When she finally did, all she had was a bag full of newspaper.
But if you don't overreach, it's a nice life:
On a recent Wednesday, the witch and spirit medium Aja Daashuur was preparing her home for a magical workshop that would be attended by 10 women, including her assistant.
The candles were lit. Dozens of long-stemmed pink roses were arranged in a circle in the center of the room. Meditative music played softly in the background. Her final task? Sweep the negative energy out of her 100-year-old A-frame house high in the hills of northeast Los Angeles.
 As she pushed the broom an inch above the wooden floors, she murmured a prayer under her breath:
"Only light and love may walk through this door.  
"Protect it from negative energy, psychic attacks and lower vibrational energy.  
"I ask the sun and the moon, as I am a daughter of both…"

Daashuur is a former musician and celebrity stylist who now earns her living channeling spirits and sharing their insights with her clients.
Yes, why bother trying to style celebrities when you can make real money being a daughter of the sun and the moon?
Posted by Charlotte Allen