What the NXIVM#%&? Rich ladies pay to join sex-slave cult with unpronounceable name run by guy who can't even spell Latin–and HE's supposed to be the criminal?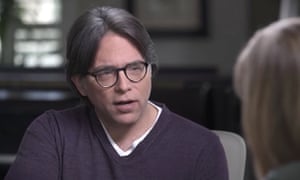 Image: The Guardian/ YouTube
My favorite paragraphs from the lurid U.K. Guardian story about 58-year-old self-help guru and former multivitamin salesman Keith Raniere, convicted by a federal jury on June 20 after a seven-week trial on charges that included forcing well-heeled women to become his sex slaves in a cult he ran in an upstate New York suburb:
Clare Bronfman, a high-level member of the group charged as a co-conspirator, is the daughter of Edgar Bronfman Sr, the late patriarch of of the Canadian distillery fortune Seagrams.

While the heiress, whose fortune is estimated at $250m, was passed over as a sex slave, she bankrolled the group's frequent lawsuits and could call on the family jet for business and holiday excursions.
She was "passed over" as a sex slave? She didn't make the cut?
According to the Guardian–and federal prosecutors–some 19,000 people (translation: mostly women) signed up over the years to join Raniere's unpronounceably named NXIVM, a multi-level marketing organization devoted to developing "self-empowerment" via "executive training sessions."
On the side, Raniere was also running another, more secretive group called "Dominus Obsequious Sororium."
Ha ha! I can't tell whether Raniere flunked high-school Latin, was running a riff on A Funny Thing Happened on the Way to the Forum, or deemed his rich-lady customers too dumb to notice the obvious misspellings. (The name–acronymed to "DOS"–supposedly translates as "Lord of the Obedient Female Companions.")
At any rate the goings inside that suburban DOS dungeon were pretty hair-raising–and Bronfman wasn't the only well-off female to get involved:
Among those was Lauren Salzman, daughter of the Nxivm co-founder Nancy Salzman, who told jurors of how she became Raniere's "slave" and recruited other slaves for herself.

The Smallville actor Allison Mack, allegedly second in command of the group, admitted to extortion and forced labor in her role as recruiter for Nxivm. According to prosecutors, Mack starved women until they fit her co-defendant's sexual ideal "under the guise of female empowerment".

Others included "Nicole", believed to be the daughter of the Dynasty actor Catherine Oxenberg, who spent a year on a 500-calorie-a-day diet to reach a target weight of 107lb, a goal designed to ensure she remained obedient to the cult as well as please Raniere….

The unassuming suburban locality proved a perfect foil for the brutal behavior within. Prosecutors said the group's homes, one of which included a dungeon, functioned as the set of a "horror movie".

During closing arguments, the prosecution pointed to a map marked with the houses where Nxivm members lived, then described what witnesses said had happened inside several homes.

In one, the jury heard, a naked woman was held down – "her arms above her head like a sacrifice, screaming" – while she was branded with Raniere's initials. Another was tied to a wooden table, blindfolded, while 15-year-old "slave" Camila, one of eight "first-line masters", performed oral sex on her as Raniere looked on.
Now–involving a 15-year-old girl is definitely criminal, and anyone who does that deserves to go to prison for a long, long time. Although I'd like to know where Camila's parents were when all this was going on and why they weren't being prosecuted as well.
But the rest? Wasn't there a series of best-selling books made into movies about that sort of thing? Fifty Shades of something or other? And wasn't the readership for that trilogy nearly 100 percent women?
And this seems odd:
The trial featured testimony from four women, Sylvie, Daniela, "J" and Nicole, whose full names were withheld because they were considered victims….
What, a "J" but no "O"? And what about an accused's right to confront witnesses against him? And why, exactly was this a federal case? Most sex crimes are tried at the state level.
Still:
Raniere, who claimed to be one of the smartest people in the world and boasted a devoted following, was found guilty of all counts against him, including racketeering, forced labour, sex trafficking and child abuse images charges. The jury reached their decision in less than five hours of deliberations.
Ookay.
Posted by Charlotte Allen