"Fredo"–or is it "Freda"?–strikes again: Hard to tell what's funniest, Kamala's "pronouns," Chris Cuomo's Kamala pronoun joke, or Cuomo's groveling apology tweet two minutes later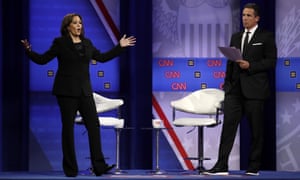 Photo: MarcÍo José Sánchez/AP
When the California senator was introduced on to the stage at the event in Los Angeles, she was quick to make an addition. "Thank you, guys," she said to the audience. "My pronouns are she, her and hers."
Ha ha–Harris's "pronouns"! Willie Brown could have told you that!
Next at bat: CNN host Chris "None Dare Call Him Fredo" Cuomo with a comeback:
"She, her and hers? Mine too,"….
Actually pretty funny–except that, as we all know, LGBTQ people have no sense of humor whatsoever:
Tell that to a trans or non-binary person who gets the sh[–] beat out of them for referring to themselves with the correct pronouns in front of some f[—]ing clown who can't accept it.
And so within minutes, just minutes, we got this from Cuomo–he's an "ally," too!
PLEASE READ: When Sen. Harris said her pronouns were she her and her's, I said mine too. I should not have. I apologize. I am an ally of the LGBTQ community, and I am sorry because I am committed to helping us achieve equality. Thank you for watching our townhall.
Which didn't cut much LGBTQ ice:
What you should do @ChrisCuomo  is not just apologize but admit what's behind this is YOUR ignorance. You just showed you don't understand the importance of pronouns, so how do you confidently crown yourself an ally? Learn from black & brown trans women
If only instead of "PLEASE READ," Chris had written "PLEASE, PLEASE, PRETTY PLEASE READ"!
Still, it's always a barrel of laughs, isn't it, to watch Chris Cuomo grovel even more in the "ally" department than Kamala Harris did.
Posted by Charlotte Allen