Some call dumping that hideous naked-lady statue at the Amazon Synod into the Tiber vandalism. I call it a Rome beautification project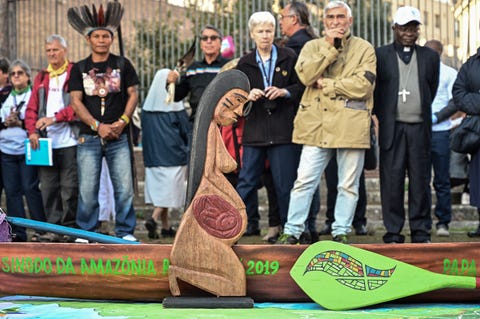 Photo: Vincenzo Pinto/Getty Images
Gee, sad! In the middle of the night a bunch of guys snuck into a church in Rome, took that wooden statue (or multiple statues) of the naked pregnant lady featured at the Vatican's ongoing "Amazon Synod," dumped it (or them) into the Tiber River–and
videotaped themselves in the act
.
The hatred unleashed by the Synod, which led to breaking into a church, is hatred of the "foreigner," hatred of a Christianity that seems different from your own…
I call it a Rome beautification project. That statue was an ugly piece of junk, as phony-baloney as the synod itself, which
is being run by German bishops
trying to push the Catholic Church into ordaining women and getting rid of celibacy for priests–with the hope that this progressive agenda will lure a few more parishioners into their own empty churches along the Rhine.
Meanwhile a debate has raged over whether the naked lady was supposed to be a pagan fertility goddess (some volunteers at the church where it was displayed 
were calling it "Pachamama" or "Mother Earth"
)–or an
image of the Virgin Mary,
although naked because you know how indigenous people feel about wearing clothes. Obviously worried about the
weird tree-planting ceremony
that accompanied a display of the statue attended by Pope Francis in the Vatican Gardens–a ceremony that including getting down onto the ground bowing in front of it–Vatican officials have scratched their heads trying to come up with an innocuous explanation for its presence on Vatican property, finally declaring that it was a
"symbol of fertility and life."
You might be forgiven for saying, "Uh-huh."
Consider four prelates in the synod who've spoken in favor of the ordination of the viri probati, meaning tested married men: Cardinal Claudio Hummes of Brazil, the synod's relator, or chairman; retired Bishop Erwin Kräutler of Xingu, Brazil; Bishop Carlo Verzeletti of Castanhal, Brazil; and Bishop Eugenio Coter of Pando, Brazil.

One way of summing it up is that four Brazilians are in favor of married priests. Another way of saying it, however, is that three Europeans and an ethnic German are in favor of married priests, since Hummes is the son of German parents and studied in Switzerland, Kräutler was born in Austria, and Verzeletti and Coter are Italians from Brescia and Bergamo respectively; both are in Lombardy, a former province of the Austrian empire still influenced by the Teutonic mindset.
Some of the Kraut bishops want to create an "Amazonian rite. What–with piranhas?
Meanwhile, I sincerely hope, of course, that the perpetrators of the naked-lady vandalism are caught and subjected to the full force of the law. Although knowing the Italian police…
Posted by Charlotte Allen