Ana Navarro is the Republicanest Republican in the world: Voted for Hillary, bought Kamala Harris T-shirts, calls Joe Biden "a decent man"–but Elise Stefanik is a jerk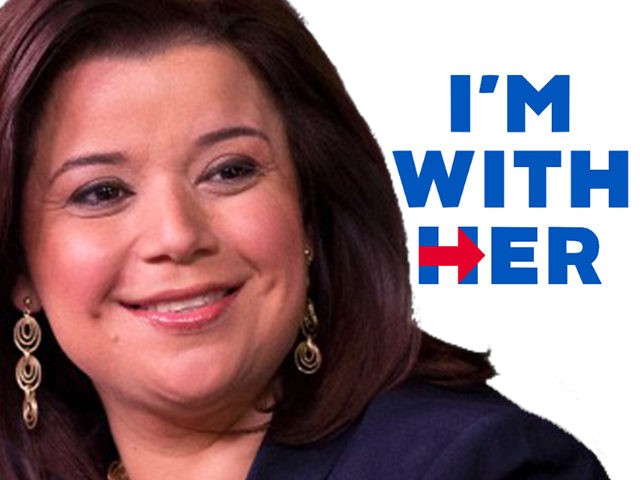 Image: Breitbart
Ana "That Sheriff Guy With the Hat" Navarro is my favoritest Republican ever. Because everything that the Republican Party stands for–Ana stands for it, too!
Like: Making fun of African-Americans when they don't act the way you want them to. After all Republicans are supposed to be racists, aren't they?
The "two Cubic Zirconia & Polyester-Spandex ladies" was an especially nice Black People of Walmart touch.
Let's look some more at Ana's Twitter feed to see what other super-Republican views the most Republicanest Republican in the whole world holds:
Ana on the Democratic presidential debates:
For over 10 hours today, we watched Impeachment Hearings revealing the mafia tactics -unethical at best, criminal at worst- of the Trump (mis)Administration. Now, watching Democrats vigorously debate actual policy. The contrast is dramatic. It's different universes.
Ana on Democratic presidential candidate Joe Biden:
I don't care if @JoeBiden mis-speaks. He's been making minor gaffes all his life. It's not about lying or trying to offend. He's decent, a man of substance.
Ana on Democratic presidential contender Cory Booker:
Appreciate

@CoryBooker

using his voice and experience as a former Mayor to try to bring some bipartisan pragmatism to the gun issue. On both sides, we need fewer extremists and more people willing to find a solution. Inaction, the status quo, is not acceptable.
Ana on Democratic presidential contender Kamala Harris:
Anybody who thinks Democrats are wringing their hands and not energized about their candidates, hasn't spoken to the folks in Miami. They turned out strong for Kamala tonight.
Ana on Democratic presidential contender Kamala Harris again:
I bought shirts from @KamalaHarris  website to give to young women in my life, so they know little girls of color can grow-up to be Presidential candidates or anything else they dream.
Ana on Democratic Rep. Ilhan Omar:
We can disagree w/ @Ilhan's policies. I do. But I also recognize being a black, immigrant, Muslim woman probably puts her at greater risk from a triggered whacko. That's why incendiary rhetoric, and chants of "Send her back!" should be condemned.
Ana on GOP Rep. Elise Stefanik:
Congressperson on the Committee, inside the room, is reading tweets and trolling a TV host during this crucial hearing and important testimony. Cuz you know, tweeting seems more important than focusing on a Congressional responsibility.
And finally, Ana on 2016 Democratic presidential contender Hillary Clinton:
She won 3 million more votes. She was elected by the majority of the American people. She lost the Electoral College.
I can't believe how Republican the world's Republicanest Republican is–can you?
Posted by Charlotte Allen