How seriously do feminists actually take Harvey Weinstein? Protesters outside rape-trial courthouse resort to squatting up and down and singing Spanish song about Chilean politics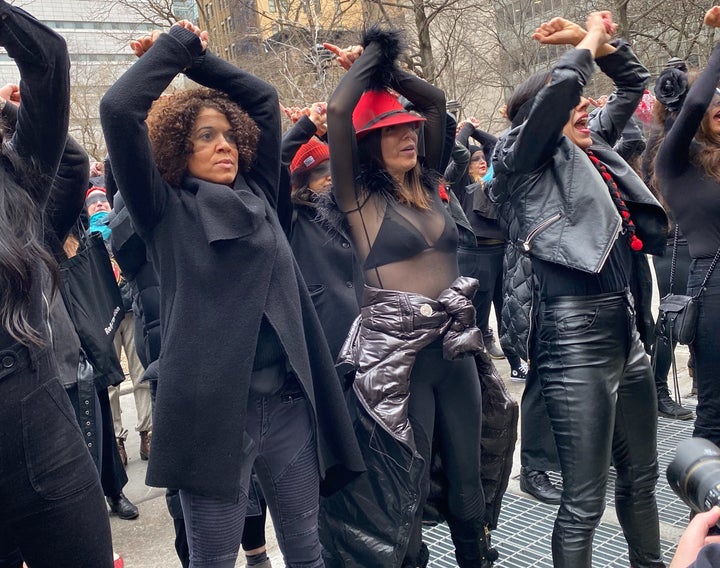 Can't feminists outraged by Harvey Weinstein's alleged sexual predations come up with something better than…a dumb dance with lyrics that aren't even in English?
Isn't rape supposed to be a serious crime?
But the 100 or so women who gathered in protest outside the New York City courthouse during jury selection on two sexual-assault counts lodged against the disgraced Hollywood titan seemed so stumped creatively that they had to resort to performing a song in Spanish composed by a Chilean feminist group whose theme was more about Chilean politics than anything Weinstein is supposed to have done.
Here is the HuffPost's description of the "flash mob" demonstration:
They were a diverse group, wearing black with accents of red, many of them tying black mesh around their eyes and carrying totes emblazoned with "TIME'S UP" and Dolores Huerta quotes.
Dolores Huerta? Isn't her cause the United Farm Workers?
Here's more:
"Patriarchy is our judge that imprisons us at birth! And our punishment is the violence you don't see," the women sang in unison as they swayed back and forth in a choreographed dance.
"The rapist is you. It's the cops. The judges. The state. The president."
Anyone but Harvey Weinstein, it would seem.
Although, to give these females some credit, maybe they thought "the president" ("el presidente") was a reference to Donald J. Trump, who, everyone knows, is just as awful as Weinstein, if not worse.
Although, in fact, the president in question seems to be Chilean President Sebastián Piñera, who, as a center-rightist, is loathed by the Chilean left in general, but in particular for calling out the army to deal with a spate of arson and vandalism of public facilities in Santiago to protest a rise in subway fares.
The song they were singing, "Un Violador en Tu Camino" (which translates to "A Rapist in Your Path" in English), was written by LasTesis, a feminist performance group based in Chile. It was first performed publicly in Chile in November 2019 in the midst of the country's nationwide uprising against inequality….

The lyrics of "Un Violador en Tu Camino" express the philosophy of Argentinian theorist Rita Segato, which identifies fundamentally broken institutions rather than just poorly behaving individuals as the root of rape culture and sexual violence.
Argentinian, Chilean, whatever. At any rate:
Activists Paola Mendoza, Yara Travieso and Sarah Sophie Flicker first saw video footage of "Un Violador en Tu Camino" last month. As the performance grew in popularity within Chile and then moved to other countries, Mendoza, an artist based in New York City, emailed choreographer and director Travieso and Flicker, a creative director and artist….

And so they got to organizing, along with actor and activist Amber Tamblyn and the national organizing director of the Working Families Party, Nelini Stamp. They all reached out to their own networks and encouraged those attending to bring other women-identifying people….
The focus on systems that perpetuate violence against women over singular monsters is why Mendoza, Flicker and Travieso found the song so powerful in this current moment.
"It is much larger than one man committing a horrific crime, this is a systematic problem," Mendoza said. "And so it's not just about the Harvey Weinstein trial, though he represents something specific in the United States. It's about something that's bigger than that."
Yasmeen Hassan, the global executive editor of Equality Now, was one of the women in attendance. She told HuffPost that she sees the Weinstein case as symbolic, "the epitome of what led to the Me Too movement."
Women-identifying people may feel especially empowered by such lines in the song as "El estado opresor es un macho violador." That means "The oppressive state is a macho rapist."
Jezebel prints more of the lyrics, along with the accompanying dance moves:
Es feminicidio
[Place hands behind the head, squat up and down]
Impunidad para el asesino
[Repeat movement above]
Es la desaparición
[Repeat movement above]
Es la violación
[Repeat movement above]

[Run in place, but without lifting feet from the ground; move forearms up and down in sync with the feet]
Y la culpa no era mía, ni dónde estaba, ni cómo vestía
Y la culpa no era mía, ni dónde estaba, ni cómo vestía
Y la culpa no era mía, ni dónde estaba, ni cómo vestía
Y la culpa no era mía, ni dónde estaba , ni cómo vestía
That translates as:
It's femicide.
Impunity for the killer.
It's disappearance.
It's rape.

And the fault wasn't mine, not where I was, not how I dressed….
Here's the YouTube.
My thoughts: If you have to import your protest song all the way from Chile and do a "dance" that consists of squatting up and down with your hands on your head, aren't you suggesting that the legal case against Harvey Weinstein isn't all that serious?
Posted by Charlotte Allen