Me for Catholic Arts Today: Spain's anticlerical secularists were good for something–allowing the work of Spain's greatest Renaissance sculptor to travel to the U.S.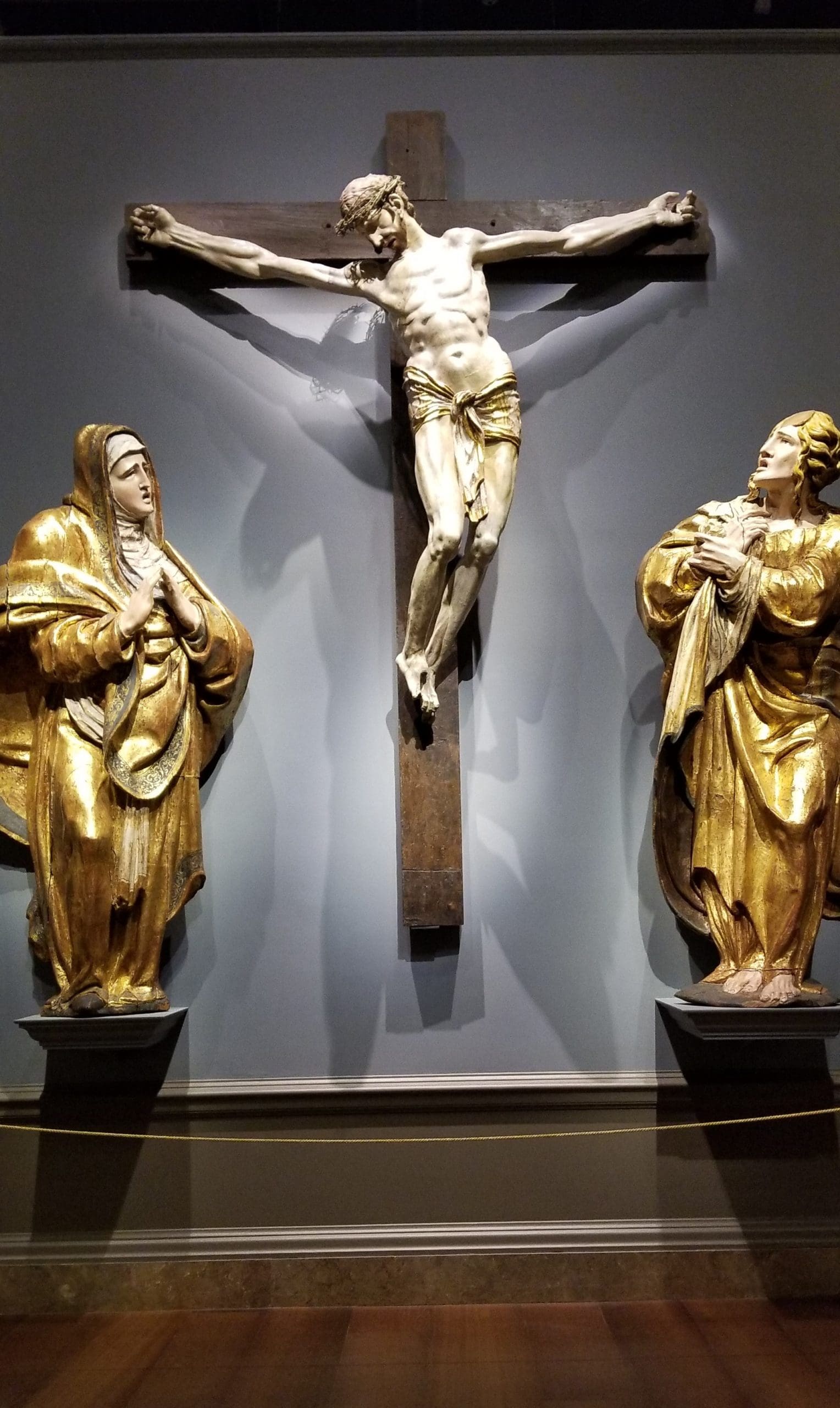 Photo: Charlotte Allen
From my latest for Catholic Arts Today:
The National Gallery of Art has put on an extraordinary exhibit of a great Renaissance artist who is almost unknown outside his native land: Alonso Berruguete (ca. 1486-1561) was the first and greatest sculptor of the Spanish Renaissance.

He is little-known outside of his native country, however, because much of his artwork is embedded in the massive gilded wooden retablos that he built as towering backdrops for the main altars in cathedrals and monastery churches in and around his native Valladolid in central Spain. The retablos, multi-leveled and crammed with multiple images, carved and painted, of Christ and the saints, some of enormous size so they could be seen by worshipers far below, cannot be transported. And the cities of Valladolid and Toledo, where Berruguete did most of his work, are slightly off the tourist trail, so few Americans are familiar with his sculpture.

Fortunately for American lovers of art and especially sacred art, during one of its periodic anticlerical phases during the 1830s, the  Spanish government xpropriated and forcibly secularized the site of one of Berruguete's most impressive altarpieces: the Benedictine monastery church of San Benito el Real in Valladolid.

Berruguete's 40-foot-high retablo was mostly destroyed in this burst of iconoclasm and many of its sculptures ended up in a municipal museum. That made it possible for them to travel outside of Spain….

The retablo sculptures of Berruguete on display at the National Gallery, lavishly gold-painted and brilliant with color, are nearly always twisted figures caught in moments of emotional agony or religious ecstasy. A sculpture from the San Benito church depicting Abraham about to sacrifice Isaac displays a crouching, open-mouthed, nearly nude Isaac, his hands bound behind him and his body bowed over with terror (his figure resembles one of Michelangelo's male nudes on the Sistine Chapel's ceiling), while the gray-bearded Abraham gazes at the viewer in as much torment as his son. Two wooden prophets writhe in the divine power that inspires them. The most thrilling of Berruguete's statues in this exhibition are his crucified Christ flanked by his mother, Mary, and the apostle John; their enormous figures once crowned the pinnacle of the San Benito retablo. Mary and John, both wrapped in swirling, voluminous gilded garments, grieve for the dead Christ, but more calmly, as seems fitting, than the emotion-charged figures from below. As for Berruguete's Christ, his body, gray in death and looking as though it were carved from stone, seems utterly at rest, the bloody work of redemption complete.

For Americans—and others of the New World—Berruguete's sculptures will resonate in an additional way. The Spanish colonizers of the Americas brought their retablo tradition with them to the churches they built there. Artistic styles changed over the centuries, but anyone who has visited the California missions or the cathedrals in, say Mexico City or Cusco, will find Berruguete's lavishly decorated wooden edifices startlingly familiar….
Read the whole thing here.
Posted by Charlotte Allen