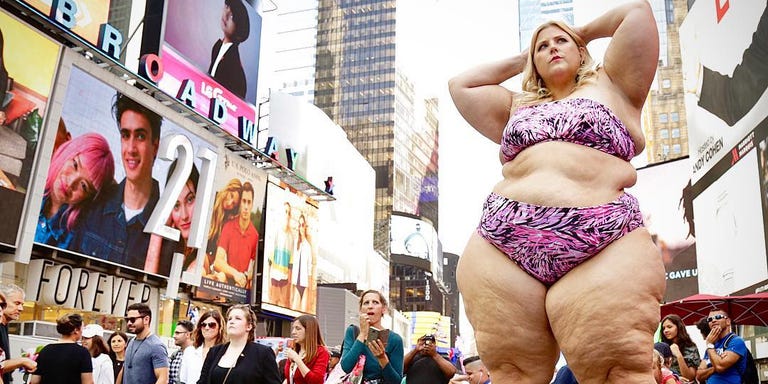 Standing in the middle of Times Square, it wasn't super hot, but the pressure of what I was about to do was making me sweat. My fingers slipped against the fabric of my maxi skirt as I fumbled with the tightly-knotted bow. My outfit fell away, revealing my pink bikini beneath it. I heard hollers from strangers, but their words blurred into an indecipherable mess as I tried, unsuccessfully, to remain calm. A sliver of sun peeked out from behind the skyscrapers, reminding me we were about to lose the light. No more time for nerves — it was now or never.

"Let's do this," I said out loud. My clothes dropped all the way to the ground, and the voices around me became clear.

***

I looked up to see three men with camera phones filming me. Our eyes met, and one uttered, "Twerk for the camera baby, show them how that ass clap."

Tears began to well up. I was prepared to be pointed at, shamed, and called fat. I didn't expect to be fetishized.

***

I wanted to make a statement and I wanted to be seen — I'm more than my body and I deserve respect and human decency.

***

Still, as I turned around for some side-angle shots, I noticed one of the men had continued to film me from behind. In nearly every image I have, you can see him standing there, holding his camera-phone up at the perfect height to capture my backside. I was faceless to him. I was just a body he wanted to exploit and use. My feelings didn't matter.
One way to be treated with "respect and human decency" is to dress appropriately for the time and place. Especially if the place is Times Square, not known for its general gentility.
Another tip: Sorry if this sounds like fat-shaming, but very large ladies look terrible in bikinis. They really do. Even the most gentlemanly of men will jeer at you on the inside even as he looks away politely and pretends that his eyes don't hurt. And if you must wear one, don't wear it in Times Square. Wear it all by yourself by your own private swimming pool.
And especially, don't model the bikini as though you were Gisela Bundchen in the 2002 Victoria's Secret catalogue. You don't look like her. You will attract attention. People will think you are "just a body." A very big body. And you will start to cry.