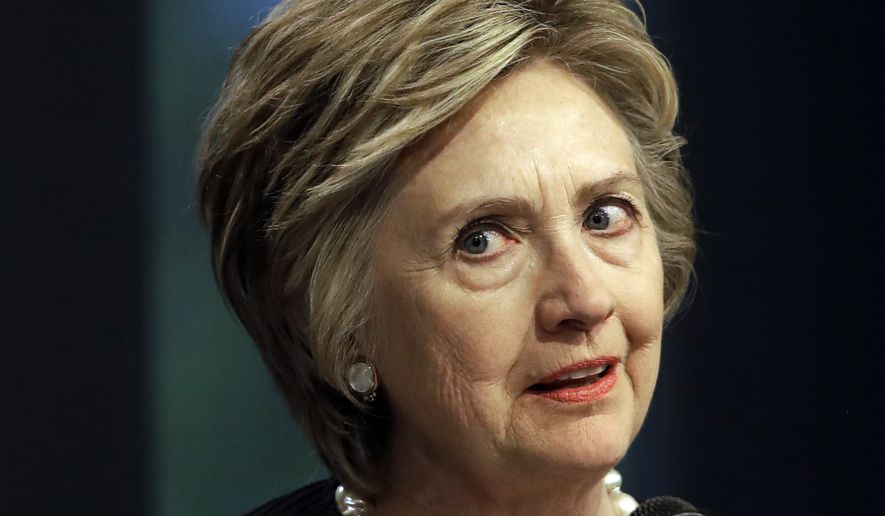 The day after the midterm elections–that would be tomorrow, Nov. 7–is the official opening day of the 2020 presidential race. And in case you'll be feeling gloomy tomorrow for one reason or other, Chicago Sun-Times writer Laura Washington
has a column for you to read
that could bring a smile to your face:
Hillary Clinton may be gearing up for a third run for president of the United States.
See? You're already chuckling. And this will make your grin even broader:
Even as a two-time loser, she could be the Democratic Party's best chance of ending the Trump presidency.
Getting serious for a moment, Washington points to the competition already on the campaign trail. What an A-list: Bernie Sanders, Kamala Harris, Cory Booker, and Elizabeth Warren. Wow!
But then it's back to Washington's superb trolling skills:
Rumors of a return engagement have been rumbling for weeks, with Clinton's supporters and former aides stirring the pot.

Then last week in an interview, Clinton was asked:

"Do you want to run again?"

"No, no," she replied to Kara Swisher, a journalist at Recode, a technology news web site.

Swisher pushed.

"Well, I'd like to be president," Clinton said.

Being president, she explained, is "work that I feel very well-prepared for having been in the Senate for eight years, having been a diplomat in the State Department."

Clinton went on to detail her august resume of governmental service.
That must have been a doozy: Benghazi, Syria, Iraq, Iran, Russian "reset"….
And didn't you laugh out loud when Hillary admitted she was thinking of a third run just because she'd "like to be president"?
And then Washington really gets going, at the top of her satirical form:
Clinton remains the best-known and most accomplished potential Democratic candidate in the nation. She and her husband, former president Bill Clinton, bring immense star power.

There is a greater determination than ever, across the nation, to elect the first women president, thanks to Donald Trump and the Me-Too movement.

And millions of voters — not just diehard Democrats — believe they were robbed in 2016. They crave payback.
See what I mean? And then there's this:
On Nov. 18, Bill and Hillary Clinton will launch a nationwide tour of 13 cities, kicking off in Las Vegas.

The show, dubbed "An Evening with President Bill Clinton and former Secretary of State Hillary Rodham Clinton," has been organized by Live Nation.
And as with all good jokes, there's a punchline that catches you by complete surprise:
Ticket prices will range from $750 to $72 per person….
Oh, Laura, you card!
Of course there's an off-chance that Laura Washington is actually dead-serious and not just having election-season fun–and actually believes that Hillary Clinton is the "most accomplished potential Democratic candidate in the nation." I kind of hope that's the case, and that Hillary Clinton really does plan to become the Harold Stassen of the Democratic Party. (Although at her age she might not be able to beat the record set by Stassen, who ran for president 14 times before giving up in 2000.)
Please, Hillary, do it! You might not beat Donald Trump, but I bet you can wipe the floor with Kamala Harris.
Posted by Charlotte Allen