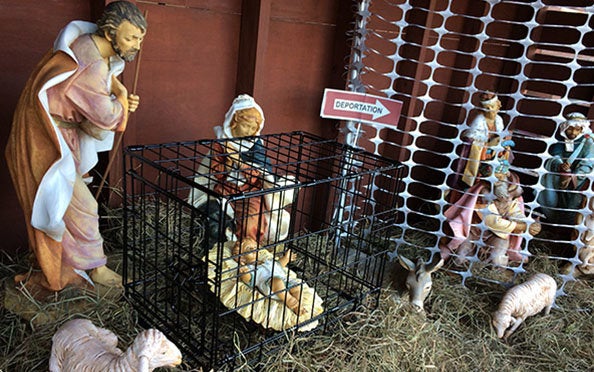 Nothing says "Merry Christmas" like a big ol' politicized Nativity scene.
I started feeling the Christmas spirit already when I read this in the HuffPost:
Leaders at St. Susanna Parish, a Roman Catholic congregation in Dedham, hope the display puts a Christian perspective on controversial actions toward migrants at the U.S.-Mexico border and around the world….

The scene shows baby Jesus in a black metal cage, separated from Mary and Joseph. The image of Jesus behind bars is meant to represent the plight of migrant children separated from their parents at the U.S.-Mexico border because of White House policies.
To the right of the scene, a fence creates a barrier between the Holy Family and the three wise men. A sign attached to the fence reads, "Deportation." [parish priest Steven] Josoma said the wall is supposed to represent the southern border and other physical and metaphorical walls that Western countries have created to keep refugees out.
Above the stable, a blue banner reads, "Peace on Earth?"
But wait–isn't there something missing? Where's the figurine of Donald J. Trump as King Herod slaughtering little Honduran babies?
Fr. Josoma, by the way, is one woke pastor:
"People think children in diapers getting tear-gassed is OK, but this [Nativity scene] is totally sacrilegious?" Josoma said in response to the criticism. "All we're trying to do is put the two together."
And in the race to win the Who's Got the Woke-est Church? sweepstakes, St. Susanna has the clear lead. Last year gun control was all the religious rage–so the church adorned its Nativity scene with signs listing shooting locales and numbers of victims over the Baby Jesus' head.
Even when it's not Christmas you can pray in the "Peace chapel" and there a cool solar farm on top of the rectory roof.
Plus, according to the St. Susanna Facebook page (dig those crazy pink balloons as Easter decorations!), the parish is now a proud member of the Dedham-Westwood-Norwood Coalition for Transgender Equality. You can't get more woke than transgender.
Oh, and in April 2018 the Facebook page announced "Open Mosque Day" including an "Islam 101 class"–just in case Christianity, even at its most woke-est ever, isn't doing it for you.
What other church in America can top that?
Karl Marx called religion "the opium of the people"–a way to take their minds off of harsh political reality. But at St. Susanna's, harsh political reality is the religion. Even, or perhaps especially, on Christmas.
Posted by Charlotte Allen