Why is it supposed to be sexist and racist that 20-year-old half-Haitian Naomi Osaka wiped the floor with 37-year-old Serena Williams?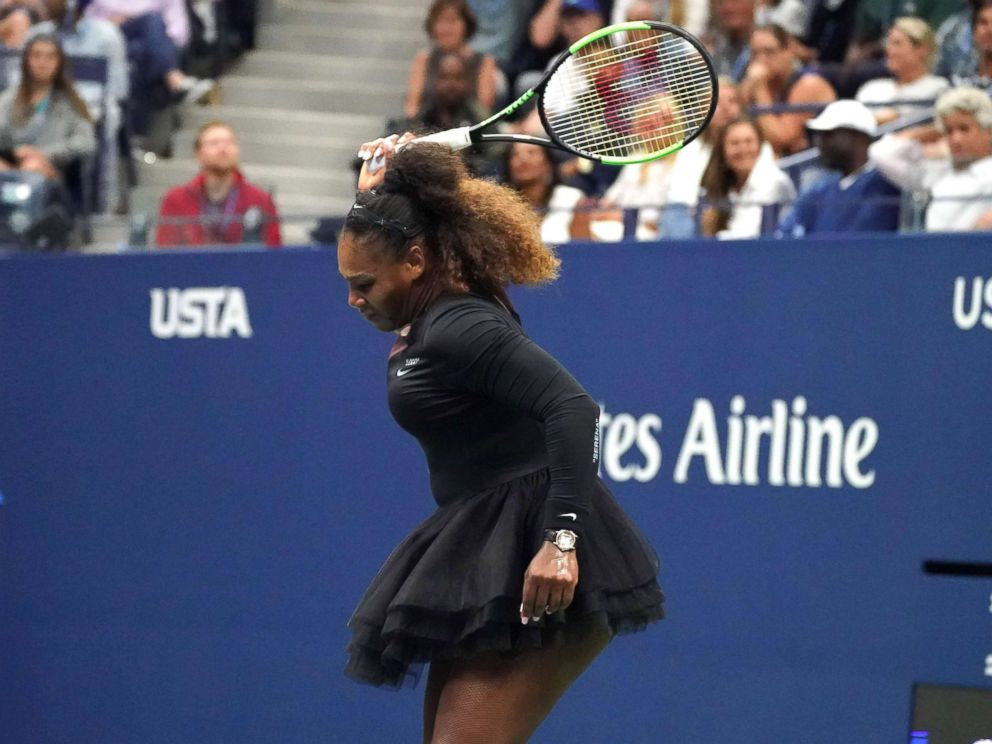 Photo: ABC News
Here's what happened:
A 20-year-old named Naomi Osaka soundly beat the 37-year-old Serena Williams 6-2, 6-4 in the women's U.S. Open. Shorter version: It wasn't even close.
This also happened (from CBS Sports):
Osaka got off to a commanding start in the first set, then prevailed in what turned out to be a stunning second set. As Serena was attempting to play herself back into the match, she was warned because her coach was allegedly making hand signals, which is a code violation. Williams was upset by the violation, claiming that her coach was simply giving her a thumbs up and demanding an apology from chair umpire Carlos Ramos.

"You owe me an apology. I have never cheated in my life! I have a daughter and I stand for what's right for her," Williams told Ramos on the court. "I don't cheat to win. I'd rather lose."

Williams remained upset and later smashed her racket on the court, which resulted in another violation — this time resulting in a point penalty. The penalty made the 36-year-old Williams even more angry, leading to her further chastising Ramos — including calling him a "thief." Eventually, a full game penalty was leveled against Williams for berating an official.

Several US open officials eventually came onto the court to talk to Williams and try to calm her down. After several minutes of discussion, cooler heads prevailed and the match resumed.

Shortly after, Williams surrendered that second set and the match went to Osaka.
That's the straight-news version of what happened. Here's the feminist version:
Sally Jenkins at the Washington Post:
Chair umpire Carlos Ramos managed to rob not one but two players in the women's U.S. Open final….Ramos took what began as a minor infraction and turned it into one of the nastiest and most emotional controversies in the history of tennis, all because he couldn't take a woman speaking sharply to him.

***

[H]e wasn't going to take it from a woman pointing a finger at him and speaking in a tone of aggression. So he gave Williams that third violation for "verbal abuse" and a whole game penalty, and now it was 5-3, and we will never know whether young Osaka really won the 2018 U.S. Open or had it handed to her by a man who was going to make Serena Williams feel his power.
Uh, what?
But there's more. such as this from Gillian B. White at the Atlantic:
As she tried to defend herself against the umpire's call of verbal abuse minutes later, after she called him a "thief," she was heard saying: "There are a lot of men out here who have said a lot of things and do not get that punishment. Because I am a woman you are going to take this away from me? That is not right."

***

Taking a game away from Williams for using the word "thief" during such a high-stakes match is unlikely to do much to quash the notion that a double standard exists between men and women in today's competitive tennis field. And the stakes of that double standard can feel even higher for women of color.
And this, from Quartz's Heather Landy, who not only takes Ramos publicly to task, but also takes her own husband publicly to task for not taking Serena's side:
My husband isn't a fan of Serena Williams, and while his cheering for her opponents never much fazed me before, these days it fills me with unspeakable rage.

***

Williams is a 36-year-old woman who exists in a system that wasn't built for her, who excels at a game that isn't kind to her, who put her body and indeed her life at risk to have a baby that now depends on her, and is still expected to handle every setback with ease and graciousness, which most of the time she does. ("Everything's fine, guys," she said at a press conference after French Open officials banned the catsuit Nike developed for her to help her guard against blood clots.) I can't understand why more people like my husband aren't outside right now erecting statues of Williams, let alone able to drum up enough empathy to just cheer her on in a tennis match.
Yikes! Guys, how would you like to be married to Heather Landy?
First of all, Ramos leveled no penalty at all on Williams for a) the coaching-from-the-stands violation (maybe it's a rule that ought to be changed, but it's a rule); or b) the first torrent of abuse–I mean "speaking sharply," or is it "tone of aggression"?-she hurled at him. So if she'd just not felt the urge to shatter that racket into smithereens….
Second, Osaka would have won anyway. I can't help it that Williams went through a difficult childbirth. Yes, she was brave, and it was brave of her to play her way to a comeback despite lingering physical problems, but she lost–fair and square and to a younger, better player. I can't help it that Serena Williams is simply aging out, as all athletes must do.
Third, what's  with this "women" and "women of color" stuff? Serena Williams wasn't playing a man; she was beaten by another woman. Furthermore, Osaka is half-Haitian. So where's the racism?
But that's the difference between the straight-news version of events and the feminist version.
Update: Love ya, Ace of Spades HQ, for the shout-out! One of my favorite blogs.
Posted by Charlotte Allen